News Shots
ICSI News – 12th July 2021
This issue…… Chairman's Quarterly Report, Results from CPSA World English Sporting Championship 2021, BSSC Annual Report for 2020, Courses and Visits.
Chairman's Quarterly Report
Chairman's Quarterly Report: 1st April to June 30th 2021
This is my first quarterly report as Chairman since the AGM in March when we had just started to be 'unlocked' slowly. By the time this gets to you we will be on the verge of a large degree of normality again, so I do hope this finds everyone well and enjoying being back out in the shooting field once again!
Polo Shirts:
As promised, for those ordering polo shirts they should now have been received. We have had photos from America to The UK of Members modelling them, so continue to publicise the Institute with this garment. We will in due course be putting them onto our shop page for those who would like to buy additional shirts.
News Shots:
Next to appear was the 'News Shots' via email in the first instance and available on the New Website. I hope these 'News items' are helping you to keep up to date with both external and internal matters within the shooting World. A massive thank you to John Cullinan for producing this each week, and please keep sending any relevant news and photos that can be included to him.
Webinars/Seminars:
We have continued to produce Seminars/Webinars via 'Zoom'. These have included a presentation from 'The Game Conservancy' on their work, a 'Virtual Tour' of The Longthorne Gun Factory, and a presentation on 'Child Safeguarding in sport'. I hope these are both useful and enjoyable for those attending, but more importantly, if the timing of the Seminar is such that you are unable to attend, we will in due course attach video copies of the whole Seminar onto our new website which will then be permanently available online. We will let you know when that becomes available. Above all thank you to all our Presenters who have taken the time to enlighten us.
Website:
You will have all hopefully seen the new Institute 'Website' by now. This has been a massive piece of work and a big thank you to Richard Halsall who has spent an enormous amount of time in producing it. This has been designed and put together by Richard at no cost at all to the Institute, and to date has taken many weeks of work from him and others on Council to get something that works for Members.
There is a bit to go yet, and we are moving to a 'PayPal' system for Subscriptions and Shop Items and on-line booking for Courses. We will keep you up to date as this unfolds. This would have cost us many thousands of pounds had we had an outside Company to do this, so thank you Richard.
Shop:
Jason Rowntree has very kindly 'volunteered' to take charge of the Shop. This will appear on the new website shortly with all items that we have and again will operate under the PayPal system for us. We have at present '5' different types of badges and a Game Conservancy book to sell, but Jason is on now with sourcing items for the shop which will be branded where possible. Please could you let Jason know of any ideas that you as Members might like us to look at and would be useful as part of a branding of kit for Institute Members to wear. Jason is now fully qualified with the 'Fashion Police' to take on this onerous role!!!
Courses:
Under Jason Rowntree's guidance, we have now run the first face to face 'Coach Development Workshop' at Oakedge Shooting Ground. The course was full, and good feedback accordingly. We are running a 2nd course on September 6th at Kibworth Shooting Ground which is already full (Maximum 8 people). We aim to run 4 courses during a year if demand allows, so please keep signing up and demand will ensure the Courses will be put on. Jason Rowntree is again the contact for this.
Late September will see the first 'Game Loaders Course' run by Andy Kirkland. There are spaces remaining, so please sign up if you wish to attend. This course will be going ahead.
We are keen to run other types of course, so please feed into anyone on Council with ideas. It will be being discussed at our next Zoom Council Meeting at the end of this month.
Council:
Paul Dancer has after many years on Council decided to step down. Could I on behalf of all Members thank Paul for his work on Council over the years. That said, he has not got away with it as he has 'volunteered' to continue organising the 3-dimensional visits for us, so thank you Paul for that.
In place of Paul, Council have agreed to co-opt Derek Wetter. Derek will be focusing on the PR side, ensuring that as an Institute we gain maximum coverage in the shooting press. We will have a contact email address for Derek shortly so that Members may contact him with any information that might be deemed relevant for PR purposes.
Articles of Association and Logo use changes at EGM:
Hopefully, this is just a reminder but in June we held an EGM where we changed the criteria for New Members to join and Associates to upgrade to full voting Member status. Fundamentally the change is that if you have been coaching full time for a minimum of 3 years (rather than the 5 years we had before), you can apply to join. For Associates who have been with the Institute for a minimum of 2 years and have evidence of professional development, you may now apply to upgrade to full Member status, and I would encourage those who meet the criteria to do so, so that you can vote on the running of YOUR Institute.
Additionally, at the meeting, it was passed that the Institute Logo may be used (in its correct format) by any Associate member along with Members and Fellows on any publication that they may use, so please do so and spread the brand of the Institute.
Finally………….
A very warm welcome to new Associate members:
Rob Hall Sean Rushton Andy Plant
Danny Sumpter Michael Knight Ivan Harvey
Dave Harkness
To Member
Adrian Gribben
To Fellows
Dr Malcolm Plant Don Currie
Returning to the Institute
Damian DelGazio Marcus Felder
That is it! It has been a remarkably busy 3 months and a big thank you to all on Council for the enormous amount of work put in,
Kind regards
John Robinson
(Chairman ICSI).
CPSA World Championship 2021 Results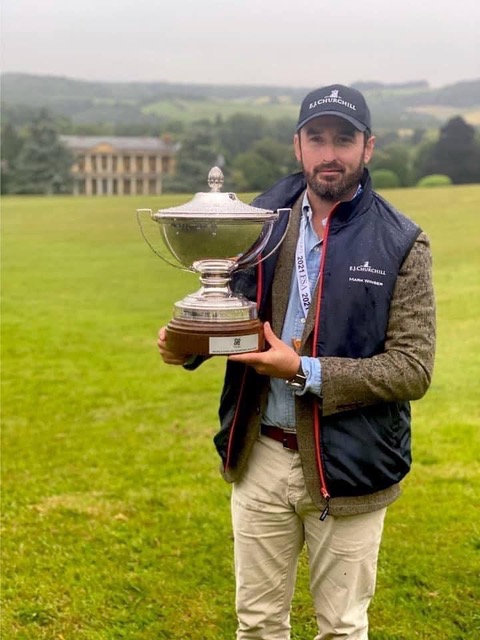 Congratulations to Mark Winser on winning the CPSA English Sporting World Championship held at E.J. Churchill's Ground at
After a thrilling final involving, Nathan Skinner, Stephen Brightwell, Mark Webster, Martin Mayers and James Bradley Day, Mark finished in first place with Mark Webster in second place and James Bradley Day in third.
England were the overall team winners, followed by Wales and Scotland. In the lady's team event, England finished first followed by Wales and then Scotland.
George Digweed won the individual Veterans title, (his 27th World Title)
Stephen Brightwell won the individual Super Veterans title.
The full set of results can be found on the CPSA website.
Steve Williams was the Joint Chief Referee and as you will know is a Council Member of the Institute. A busy week for Steve after another busy week at the Jack Pyke Competition at Sporting Targets. Without the referees these competitions would not take place. The CPSA offer referee courses in all the home disciplines. See their website for details.
Steve Brightwell George Digweed
British Shooting Sports Council Annual Report 2020
Please follow the link below to view the Annual Report 2020 of the British Shooting Sports Council.
The work performed by Malcolm Plant on the ricochet characteristics of steel (soft iron) and lead are mentioned on page 21.
The BSSC is the major political lobbyist on behalf of the shooting community and the member organisations of BSSC are listed in the report.
The Lead and Steel Debate – Countryside Alliance Video
The debate regarding steel and lead shot will, I hazard a guess, lumber on for some time and no doubt opinions and expert advice will vary. Recently, while trying to get some deeper understanding of the topic I came upon this video on YouTube, produced by the Countryside Alliance. I know, there are some health warnings to attach to anything on YouTube. Make your own judgements of this video and if you have found something which you believe is better or just different, please share.
Please click on the link below
Countryside Alliance – Using Steel in Our Guns
WORKSHOPS AND CONTINUED PROFESSIONAL DEVELOPMENT
Coach and Instructor Development Day
Course Full – Reserve List Available
Monday 6th September 2021
Kibworth Shooting Ground, Kibworth, Leicestershire LE8 0RD
Hosted by full time professional coaches: –
Jason Rowntree – CPSA Senior Coach, Course Tutor and Assessor.
John Robinson – England Head Coach Commonwealth Games and ISSF International Coach.
Game Shooters and Loaders Course
LAST FEW SPACES STILL AVAILABLE
Wednesday 22nd September 2021
Doveridge Shooting Ground
Derbyshire
Hosted by experienced professional coaches and game shooters, Andrew Kirkland and Jason Rowntree. This course is a comprehensive introduction to Game shooting and the role and work of the Loader.
This includes lunch and a course manual.
The minimum qualification for entry to the course is a CPSA, BASC or similar Safety Officers qualification.
To book a place on the Course email: icsi.membership@gmail.com or for further information, email Andrew Kirkland on andrew.kirkland2@btinternet.com
FORTHCOMING ZOOM EDUCATIONAL EVENTS
26th July 7:00pm Dawnay Estates Yorkshire
How large shooting estates are run and managed.
James Stephenson
BOOKINGS FOR THIS ZOOM MEETING ARE NOW BEING TAKEN.
TBC Zoom visit to the Birmingham Proof House
If you have a topic which you would find interesting, please let us know but if you know who can deliver that topic then we have a fighting chance of making it happen.
Please let John Cullinan know of your suggestions on icsimembership@gmail.com.
EXTERNAL VISITS
Paul Dancer has been negotiating a number of external, face to face visits for when government restrictions are lifted. Below are some of the visits planned.
Due to operational difficulties made worse by Covid 19 regulations the visit to Tony White Gunmakers has had to be put on hold indefinitely.
Date Confirmed: Bookings being taken Now Limited Places!
Kristian Reilly Visit to Midlands Gun Services facility for a tour and discussion with Kristian, complete with lunch. A date has been set, subject to any changes in the roadmap for the end of Covid rules for Monday 19th July starting at 10:30am with lunch provided. This tour is limited to a maximum of 10. In the first instance we are limiting this tour to members only of the Institute. As usual there is a £10:00 fee for the visit and details of payment will be provided after booking. Places will be confirmed once booking payment has been received.
Those interested in taking part in this tour please email icsi.zoomreply@gmail.com. Quoting MGS Zoom.
This is a first come first served system, so early bookings are encouraged.
Proof House Actual visit to the Birmingham Proof House once they can safely allow visitors onto their site.
In additions we are looking at visits to:
Laporte Traps
Promatic Traps
Leeds Armouries
Cartridge manufacturers
FINALLY……..
If you have any information which you feel you need to pass on to the Coaching community, please let me know, email, icsimembership@gmail.com
Suggestions for topics and guest presenters for our monthly Zoom seminars will be most welcome.
If you know an instructor or coach that you feel would benefit from membership of the Institute, please encourage them to join.
NEW ICSI WEBSITE
Please remember to log onto and register for the new website. In the future emails and all communications with members will be generated via the web site and therefore it is important that you register and provide your email details. This will also allow us to comply with the GDPR regulations and keep members details secure.
If you are experiencing difficulties, please use the Support Button on the website and Richard will look at your problem.