News Shots
ICSI News – 26th July 2021
Amber Hill test Positive for Covid, New GB caps for Phil Musson and Frank Miller Guntrader Security Breech
News from Around the Sport
Amber Hill's chances of an Olympic Gold were dashed this week when she tested positive for Covid 19. The World number 1, Olympic Skeet athlete was due to fly to Tokyo to compete in her second Olympic Games, but a positive test caused her to be excluded from the Games. Amber was perhaps one of our best chances of an Olympic Gold in shooting, based on her Number 1 world ranking and current form and after 5 hard years of training will now miss out on the chance of a medal.
Shooting team leader Steven Seligmann said: "This is an incredibly sad situation for Amber after she's worked so hard to earn her Olympic place for Team GB. "Our focus is to now make sure Amber is kept safe and well, both physically and mentally, and we have the support in place to help her through this difficult period."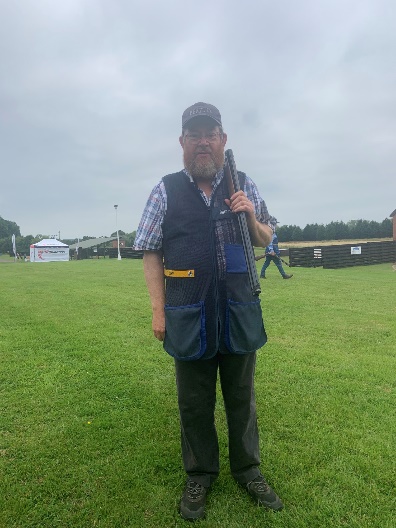 Institute members Phil Musson and Frank Miller has secured places in the England Olympic Skeet Team for the Home Internationals which will take place at Doveridge Shooting Ground, Derbyshire, on the 14th August 2021 Phil wins a place in the Veterans team and Frank in the Super Veterans Team and is also the Team Captain. Our congratulations to them both and every success at Doveridge.
A Proud Phil Musson. We await a photo of Captain Frank Miller
Guntrader announces major security breech of its website. Guntrader, the major online platform for gun sales in the UK and the supplier of gun registry information to gun shops and RFD
traders has admitted a major security beech of personal details of clients. In an email to its customers, it announced that they should change their passwords and review their online and physical security. The extent of the breech is being investigated as are claims that 140,000 names and addresses of customers are available for sale on the "Dark Web". Guntrader claim that personal financial information has not been linked.
BASC has reminded it's members to check their personal and home security.
Game Fair 2021- Ragley Hall
Institute Members at The Game Fair 2021
A number of Institute members have formed part of the CPSA Gun Line team at this years Game Fair at Ragley |Hall. The fair has seen large numbers of visitors this year as it is likely to be the only large country fair of the summer.
Pictured we have from L – R
Tom Heffernan, Lee Wilcoxson, Paul Curtis and Simon Arbuckle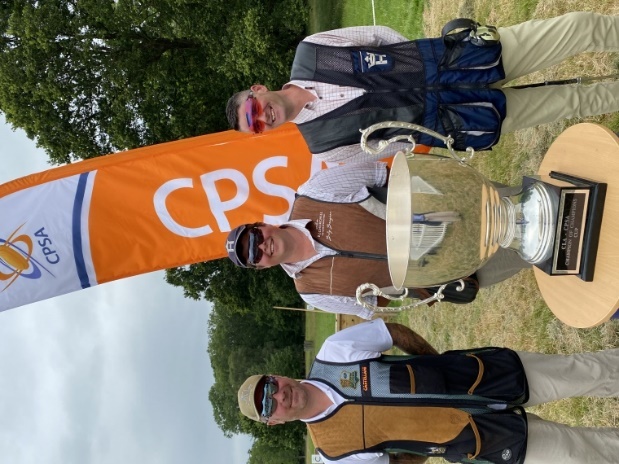 Billy Baughan, representing Buckinghamshire, has won the CPSA Champion of Champions title at the annual clay-target shooting competition at The Game Fair. Julian Morris placed second, and Darren Stamford took third. Billy won after only missing one target of the 25-target super final. The Champion of Champions is an invitational competition, with each CPSA County Committee in England invited to submit a County Champion to compete for the title. Billy continues to be one of Buckinghamshire's best shots and recently won the Buckinghamshire County Sporting Competition which qualified his entry into the competition. Billy regains his title after winning the Champion of Champions at The Game Fair in 2018.The competition consisted of 50 targets shot on The Game Fair Challenge, an English Sporting course run by E.J. Churchill's, a course that was also open to all attendees of The Game Fair throughout the weekend. The top five County Champions from this course were then invited to compete in a final which consisted of a 25-target Sportrap layout.
WORKSHOPS AND CONTINUED PROFESSIONAL DEVELOPMENT
Coach and Instructor Development Day
Course Full – Reserve List Available for September and November Dates
Monday 6th September 2021
Kibworth Shooting Ground, Kibworth, Leicestershire LE8 0RD
Hosted by full time professional coaches: –
Jason Rowntree – CPSA Senior Coach, Course Tutor and Assessor.
John Robinson – England Head Coach Commonwealth Games and ISSF International Coach.
Email jasonrowntree@btinternet.com
Game Shooters and Loaders Course
LIMITED SPACES STILL AVAILABLE
Wednesday 22nd September 2021
Doveridge Shooting Ground
Derbyshire
Hosted by experienced professional coaches and game shooters, Andrew Kirkland and Jason Rowntree. This course is a comprehensive introduction to Game shooting and the role and work of the Loader.
This includes lunch and a course manual.
The minimum qualification for entry to the course is a CPSA, BASC or similar Safety Officers qualification.
To book a place on the Course email: icsi.membership@gmail.com or for further information, email Andrew Kirkland on andrew.kirkland2@btinternet.com
FORTHCOMING ZOOM EDUCATIONAL EVENTS
TONIGHT
26th July 7:00pm Dawnay Estates Yorkshire
How large shooting estates are run and managed.
James Stephenson
BOOKINGS FOR THIS ZOOM MEETING ARE NOW BEING TAKEN.
TBC Zoom visit to the Birmingham Proof House
If you have a topic which you would find interesting, please let us know but if you know who can deliver that topic then we have a fighting chance of making it happen.
Please let John Cullinan know of your suggestions on icsimembership@gmail.com.
EXTERNAL VISITS
Paul Dancer has been negotiating several external, face to face visits for when government restrictions are lifted. Below are some of the visits planned.
Hopefully as we return to more normal living, we can firm up some venues and dates. However, at present there seems to be some reluctance to engage in face to face visit. I am sure in time this will change.
MIDLAND GUN SERVICES VISIT POSTPONED
The visit to Kristian Reilly's workshops and gunsmithing facilities has had to be postponed. WE did not reach the necessary numbers and so we have decided to look at this later in the year.
For the Future:
Proof House Actual visit to the Birmingham Proof House once they can safely allow visitors onto their site.
In additions we are looking at visits to:
Laporte Traps
Promatic Traps
Leeds Armouries
Cartridge manufacturers
FINALLY……..
If you have any information which you feel you need to pass on to the Coaching community, please let me know, email, icsimembership@gmail.com
Suggestions for topics and guest presenters for our monthly Zoom seminars will be most welcome.
If you know an instructor or coach that you feel would benefit from membership of the Institute, please encourage them to join.
NEW ICSI WEBSITE
Please remember to log onto and register for the new website. In the future emails and all communications with members will be generated via the web site and therefore it is important that you register and provide your email details. This will also allow us to comply with the GDPR regulations and keep members details secure.
If you are experiencing difficulties, please use the Support Button on the website and Richard will look at your problem.