Coach and Instructors Development Workshop at Kibworth, the Lead Debate, Something to watch…. Essex Masters, British Open.
News Shots
ICSI News – 13th September 2021
This week in News Shots: Report on Coach and Instructors Development Workshop at Kibworth, the Lead Debate, Something to watch…. Essex Masters, British Open.
Welcome to the ICSI Newsletter:
News from Around the Sport
Coach and Instructor's Development Workshop
Yesterday, Jason Rowntree and John Robinson facilitated the third Coach Development Workshop at Kibworth Gun Club, Leicestershire.
Seven eager participants assembled for the day at this long-established shooting ground to work on developing and improving knowledge and skills and how they might improve as coaches. With a variety of shooting backgrounds and experiences as coaches, all were keen to share with each other and the facilitators the complexities of coaching shooting and how they might become better.
Again, this Workshop saw two participants returning to top up and develop their skills and understanding of the shooting and coaching processes.
Larry Armistead wrote:
"Hi John. Please pass on my thanks to John R and Jason for an enjoyable and informative day at Kibworth. A brilliant learning experience which has given me a deeper insight and some new tools to fix my clients problems.
Many thanks to you and your wife for hosting us and serving such delicious food and lovely cakes! They were worth the drive!
Looking forward to another session next year to refresh and improve my skills. "
The final Workshop, at Oakedge Shooting Ground, for 2021 is on Monday 22nd November 2021 and places are again limited to 8 participants to allow a more personalised experience.
A full range of Coach Development Workshops are planned for 2022
The Plymouth Shootings
The Chief Constable of Devon and Cornwall police has recently been interviewed by ITV News Channel regarding the Plymouth shooting tragedy. His remarks, although guarded, are interesting.
The link for the interview is given below.
'Accountability for firearms licensing lies with me' – Chief Constable after Plymouth shooting | ITV News West Country
As the investigations rumble on many of the shooting bodies are lobbying the Home Office and MP's to take a balanced look at the issue of gun ownership and licensing. It has transpired that the fee for an application at just under £80.00 is below the actual cost of processing the application and there are calls to increase the cost to the actual cost of over £200.00 for a grant of application. With the likelihood that after the investigation into the events of the Plymouth shootings, that there will be even further checks related to shotgun license applications, it is probable that the cost of a grant or renewal will have to increase. BASC, the CPSA and the BSSC will no doubt lobby to keep all costs to a minimum and reasonable amount.
The Lead Debate Continues:
As we seem to stumble towards the banning of lead in game and perhaps ultimately clay shooting the various organisations associated with shooting are producing some interesting information regarding the use of lead and the use of steel, or soft iron as it should really be called.
Below is the BASC link calling for evidence
Two-year lead ammunition review – the call for evidence – The British Association for Shooting and Conservation (basc.org.uk)
It is interesting, that as the EU and the UK move towards a ban on lead, either by legislation or by voluntary code, Norway, who prescribed a ban on lead many years ago, have now lifted the ban citing "a lack of scientific evidence that the ban has an impact on the environment".
The Essex Masters
Probably the biggest shoot on the UK shooting calendar, over 9 days and 200 targets per day, the shoot attracts all the best sporting shooters and club shooters flock to the event to try their luck against the big names in shooting.
This years event was won by Mark Winsor, with Richard Faulds taking second .
Below is a link to the Fieldsports TV Channel report on the event.
British Open
Congratulations to Brody Woollard for winning the 2021 British Open Sporting at Churchill's Swinton Ground. In the Final shoot off he beat Sam Usher (2nd) and Mark Winsor (3rd). What an achievement by Brody and still a junior!
Nice to see the sportsmanship shown by fellow competitor Mark Winsor. Well done Brody, we shall hear his name many more times in the future.
There was also a great deal of praise for the Shoot organisation at Churchill's Swinton ground and it is good to hear that Jason Leith has had such a great start to his position as General Manager at the ground.
Something to Watch…….
After last week's visit to West London Shooting Ground and their approach to gun fitting this week we visit Jonny at the Gun Room and his approach and explanation. Some may find this interesting and informative; others may find it annoying, but comments would be most welcome.
If you find something interesting on YouTube or other social media that you think others might appreciate, please send it to me for inclusion in News Shots.
WORKSHOPS AND CONTINUED PROFESSIONAL DEVELOPMENT
Coach and Instructor Development Workshop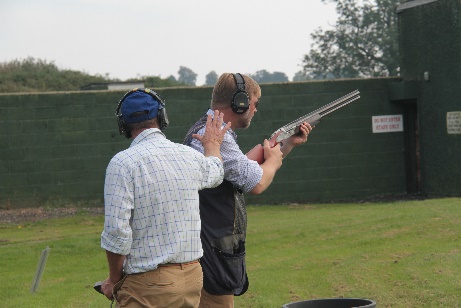 New Date
Monday 22nd November 2021
Oakedge Shooting Ground
Staffordshire
This popular workshop is available again for those who have missed out previously. Many of those who have already attended this workshop on previous occasions may also wish to return and further develop their skills and approach to coaching.
Each workshop is tailored to the specific requirements of those attending and takes each Instructor or Coach from their present position to one of greater understanding and appreciation of the shooting and coaching process.
Hosted by full time professional coaches: –
Jason Rowntree – CPSA Senior Coach, Course Tutor and Assessor.
John Robinson – England Head Coach Commonwealth Games and ISSF International Coach.
To book a place on this workshop please email Jason Rowntree
Email: coachdevelopment@icsi.or.uk
Game Shooters and Loaders Course
ONE PLACE REMAINING
Wednesday 22nd September 2021
Doveridge Shooting Ground
Derbyshire
Hosted by experienced professional coaches and game shooters, Andrew Kirkland and Jason Rowntree. This course is a comprehensive introduction to Game shooting and the role and work of the Loader.
This includes lunch and a course manual.
The minimum qualification for entry to the course is a CPSA, BASC or similar Safety Officers qualification.
To book a place on the Course email: icsi.membership@gmail.com or for further information, email Andrew Kirkland on andrew.kirkland2@btinternet.com
FORTHCOMING ZOOM EDUCATIONAL EVENTS
THERE WILL NOT BE A ZOOM SEMINAR IN SEPTEMBER.
If you have a topic which you would find interesting, please let us know but if you know who can deliver that topic then we have a fighting chance of making it happen.
Please let John Cullinan know of your suggestions on icsimembership@gmail.com.
EXTERNAL VISITS
Paul Dancer has been negotiating several external, face to face and has negotiated a visit to the Birmingham Proof House and Midland Gun Services
Birmingham Proof House Visit
Date: 20th September 2021
Time: 10:00am
Cost £20 per person (limited to 10 persons)
Venue: Birmingham Proof House
Banbury Street
Birmingham, B5 5RH
If you wish to book a place on this visit please email:
icsi.zoomreply@gmail.com
Midland Gun Services
Date: 18th October 2021
Time: 10:00am with lunch provided
Cost £10:00 per person (limited to 10 participants)
Venue: BASEMENT, Unit 1 Ubique Business Park,
March Way, Battlefield Enterprise Park,
Shrewsbury SY1 3JE,
If you wish to book a place on this visit please email:
icsi.zoomreply@gmail.com
For the Future:
We are looking at visits to:
Laporte Traps
Promatic Traps
Leeds Armouries
Cartridge manufacturers
ICSI Online Shop
The online shop is presently under construction with the hope of it going live on the ICSI website soon, here members will be able to browse, order and pay for branded items as well as other related merchandise. In the meantime, if any member needs anything, please contact Jason – shopsales@icsi.org.uk
Below is the current stock list with prices. Other items are currently being sourced and will be added along with our popular polo shirt shortly.
Please contact Jason Rowntree for any shop items.
Email shopsales@icsi.org.uk
| | | |
| --- | --- | --- |
| Merchandise | Description | Price including P&P (UK only) |
| | | |
| Book | Game Cons | £13.00 |
| | | |
| Badges | Pin | £10.00 |
| | Square | £5.00 |
| | Sheild | £5.00 |
| | Bullion | £12.50 |
| | Round | £5.00 |
| | Loaders | £10.00 |
| | | |
| Tie | Blue | £12.50 |
FINALLY……..
If you have any information which you feel you need to pass on to the Coaching community, please let me know, email, icsimembership@gmail.com
Suggestions for topics and guest presenters for our monthly Zoom seminars will be most welcome.
If you know an instructor or coach that you feel would benefit from membership of the Institute, please encourage them to join.
NEW ICSI WEBSITE
Please remember to log onto and register for the new website. In the future emails and all communications with members will be generated via the web site and therefore it is important that you register and provide your email details. This will also allow us to comply with the GDPR regulations and keep members details secure.
If you have not yet logged on go to:
icsi.org.uk
Select the tab, "Become a Member"
Follow the instructions using your personal email as your username and provide your own password.
Once completed this will send a notification to me and I will check your credentials on the master members list and authorise your membership. You may then complete your own profile which will then be seen by those wishing to find a coach etc.
If you are experiencing difficulties, please use the Support Button on the website and Richard will look at your problem.