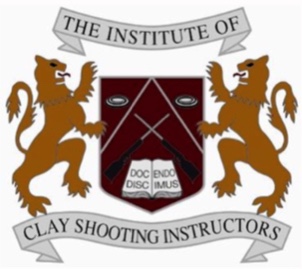 News Shots
ICSI News – 7th June2021
This issue…. New Members British Shooting New Chair, Courses and Visits including date for Midland Gun Services.
LATEST NEWS
New Members
The Council of the Institute are pleased to welcome two new members.
Rob Hall and Sean Rushton are the latest members of the Institute and both gentlemen bring a wealth of coaching experience to the Institute
Rob Hall with Secretary John Cullinan Sean Rushton with Chairman John Robinson
John visited Rob at work in his gun shop and presented his certificate, tie and badges and John Robinson visited Sean at work at the East Yorkshire Clay Shooting Ground near Beverley to present his Certificate, tie and badges.
Many members will know Rob Hall, the proprietor of the Gun Room at Holme Upon Spalding Moor near Beverley East Yorkshire. Rob also operates East Yorkshire Clay Shooting Ground, where he and Sean coach.
Rob coaches his daughter Lucy and last week in Croatia, Lucy won a Gold and Bronze Medal in the European Championships. Gold Junior Ladies European Champion and Bronze Junior Mixed Pairs
Congratulations to Lucy and to Rob on this outstanding achievement
To see the exciting Trap final please follow the link
NEW ICSI WEBSITE
Please remember to log onto and register for the new website. In the future emails and all communications with members will be generated via the web site and therefore it is important that you register and provide your email details. This will also allow us to comply with the GDPR regulations and keep members details secure.
If you are experiencing difficulties, please use the Support Button on the website and Richard will look at your problem.
BRITISH SHOOTING ANNOUNCE NEW CHAIR
Guy North has been appointed as Chair of British Shooting.
In October last year Guy took on the role of interim Chair for the organisation when John Harris announced his retirement.
Guy brings a wealth of knowledge and experience to the role, having held Board positions in the commercial, not for profit and charity sectors, with key attributes including leadership, negotiation, marketing, media and fundraising.
After being confirmed into the role on a permanent basis, Guy said: "I am delighted to be able to take on the role of Chair for British Shooting for the next 4 years. It is a critical time for the organisation with the Tokyo Games just months away and later this year planning will begin for Paris in 2024. I look forward to leading the Board in support of the team as they strive for even greater success and inspiring a new generation of athletes across all forms of target shooting."
REMINDER NOTICE OF EGM – 21ST JUNE 2021
Notice has been given that there will be an EGA meeting, by Zoom, of the Institute of Clay Shooting Instructors on Monday 21st June at 11:00am (This notice is in keeping with the Constitution changes passed at the AGM in March 2021).
The Council will ask members to vote on the changes to the Articles of Constitution. All members of the Institute are invited to attend the Zoom meeting but as the vote is on the Articles of Constitution only Corporate Members, (Members and Fellows), may actually vote.  However, all present may express their views at the appropriate time.
The link for the Zoom meeting will be sent out on Sunday 20th June 2021 for those who request the link.  The link may be requested by emailing to icsi.zoomreply@gmail.com
Please check your emails for the details of this meeting.
WORKSHOPS AND CONTINUED PROFESSIONAL DEVELOPMENT
Game Shooters and Loaders Course
LAST FEW SPACES STILL AVAILABLE
Wednesday 22nd September 2021
Doveridge Shooting Ground
Derbyshire
Hosted by experienced professional coaches and game shooters, Andrew Kirkland and Jason Rowntree. This course is a comprehensive introduction to Game shooting and the role and work of the Loader.
This includes lunch and a course manual.
The minimum qualification for entry to the course is a CPSA, BASC or similar Safety Officers qualification.
To book a place on the Course email: icsi.membership@gmail.com or for further information, email Andrew Kirkland on andrew.kirkland2@btinternet.com
COACH AND INSTRUCTOR DEVELOPMENT DAY
THIS WORKSHOP IS NOW FULLY SUBSCRIBED BUT A RESERVE LIST IS AVAILABLE AND IF THERE IS SUFFICIENT INTEREST, ANOTHER WORKSHOP WILL BE ORGANISED.
To join the waiting list and to show interest in a further Workshop please contact
John Cullinan on icsimembership@gmail.com. We hope to provide another workshop in early September if their sufficient interest. More details to follow in due course.
FORTHCOMING ZOOM EDUCATIONAL EVENTS
21st June 7:00pm Safeguarding and Coaching
An introduction to Safeguarding and coach's safety John Cullinan
This seminar will explore the present situation regarding Safeguarding, its application to your coaching and some of the safeguards coaches need to employ in dealing with children and vulnerable adults.
To Book this seminar please email to icsizoomreply@gmail.com
The Zoom link will be sent out on the 20th June to those who have made a booking.
26th July 7:00pm Dawnay Estates Yorkshire
How large shooting estates are run and managed.
James Stephenson
TBC Zoom visit to the Birmingham Proof House
If you have a topic which you would find interesting, please let us know but if you know who can deliver that topic then we have a fighting chance of making it happen.
Please let John Cullinan know of your suggestions on icsimembership@gmail.com.
EXTERNAL VISITS
Paul Dancer has been negotiating a number of external, face to face visits for when government restrictions are lifted. Below are some of the visits planned.
Due to operational difficulties made worse by Covid 19 regulations the visit to Tony White Gunmakers has had to be put on hold indefinitely.
Date Confirmed:
Kristian Reilly Visit to Midlands Gun Services facility for a tour and discussion with Kristian, complete with lunch. A date has been set, subject to any changes in the roadmap for the end of Covid rules for Monday 19th July starting at 10:30am with lunch provided. This tour is limited to a maximum of 10. In the first instance we are limiting this tour to members only of the Institute. As usual there is a £10:00 fee for the visit and details of payment will be provided after booking. Places will be confirmed once booking payment has been received.
Those interested in taking part in this tour please email icsi.zoomreply@gmail.com. This is a first come first served system, so early bookings are encouraged.
Proof House Actual visit to the Birmingham Proof House once they can safely allow visitors onto their site.
In additions we are looking at visits to:
Laporte Traps
Promatic Traps
Leeds Armouries
Cartridge manufacturers
FINALLY……..
If you have any information which you feel you need to pass on to the Coaching community, please let me know, email, icsimembership@gmail.com
Suggestions for topics and guest presenters for our monthly Zoom seminars will be most welcome.
If you know an instructor or coach that you feel would benefit from membership of the Institute, please encourage them to join.
The Polo Shirt rollout seems to have been a great success and now even those members in the USA, who ordered a polo shirt, seem to have received them.
They are cropping up all over the place and here we have Rose Thomas of Kibworth Shooting Ground wearing her polo shirt in the gun shop.
Members in the USA have received their polo shirts but we are still waiting to hear from members in Germany, Austria, Switzerland and the South Pacific.
Please send photographs wearing you polo shirt around the shooting grounds around the country and abroad.